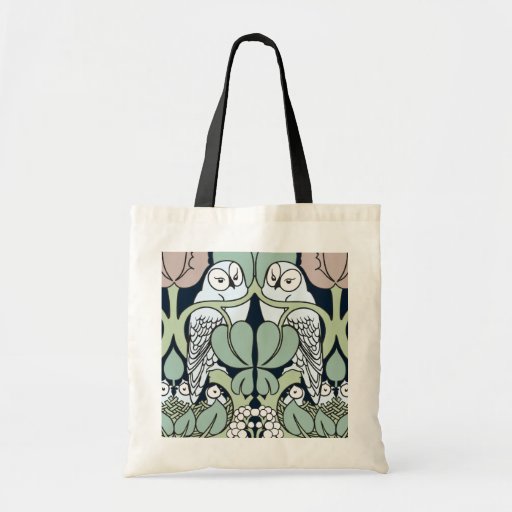 <font size="3.5">A charming Voysey Arts and Crafts Movement owl pattern tote bag or handbag (see all the style options to choose from at right). I love the nests filled with chirping little owlets!

The Owl pattern is at once elegant and playful, featuring pairs of owls perched on leafy branches near their marvellously woven nests full of adorable baby chicks nestled amid flowers, berries, foliage and large seed pods.

The Owl by C.F.A. Voysey, 1897, England, Arts and Crafts Movement. Colours include blue green, pale blue grey, soft spring sage green, muted terracotta, eggshell white and dark grey on a background of deep midnight blue. Lovingly hand restored and prepared for print by a professional graphic artist experienced in art restoration.

A wonderful gift for anyone, anytime, and especially nice for a new mother or as a Mother's Day gift or special gift bag. Matching items and more are available in my store's Arts and Crafts department. Just click the link that says "store" above to find them.</font>

More words to help you find this are grocery tote bags, handbags, book craft yarn knitting crochet bag, diaper bags, baby shower gift bags, Charles Francis Annesley Voysey, cute baby owls, owl nest, mother owl, gift for her, cool colours, green palette, Mother's Day gifts, authentic historic designs, owl chick, mother, aunt, sister, wife, daughter, woman, girl, gifts for women, pattern, vintage antique historic pattern wallpapers, nature, wildlife, barn owl, snowy owl, wise owl, leaves and berries, birds, English, Britain, British, Victorian, Edwardian, Gilded Age, La Belle Époque, Arts and Crafts Movement and Art Nouveau.